Archives
Online Banking: October 24th Update
October 7, 2021: Resource Bank is pleased to soon release a refreshed look to Online Banking. This will be implemented overnight Sunday, October 24th, during our regular maintenance window. Key points of the refresh include:
Improved navigation and toolbar icons.
Ability to customize right column widget displays.
Commercial users will now be able to create Account Groups to view a subset of accounts quickly.
Upon initial log in, you may be asked to agree to updated user terms and disclosures.
Login credentials will not be affected.
No other banking portals will be affected.

You can find details of the new look, including screen images, here.

---

Changes to U.S. First-Class Mail delivery times may impact you.

October 1, 2021: Effective October 1, 2021, the United States Postal Service (USPS) has revised its service standards for certain First-Class Mail items, resulting in a delivery window of up to five days. Please note that this may delay your receipt of mail from us and our receipt of mail from you (including mailed statements, documents, cards, and payments). Read more about the change: here.

Now is a great time to sign up for our digital features like eStatements.

---

View the RB e-Updates Digital Newsletter: September 2021 Edition

September, 2021; 3:15 pm CST: We like to keep our clients updated with the latest and greatest Resource has to offer. Read the September 2021 edition of our bi-monthly newsletter here.

---

Digital Banking Enhancements Announced; Client Action Required

Update 6/16/2021: RB Mobile App update is now available.

RB App for iPhone RB App for Andriod

Users must have the latest software update on their device before updating or downloading the app.

---

Update 5/20/2021: Launch date moved from May 25th to June 8th. Notice below is reflective of this change.

---

May 4, 2021; 12:30 pm CST: We are excited to announce an upgrade coming to your RB Mobile App, SMS Text Banking, and Voice-24 Telephone Banking.

RB Mobile App Update: This upgrade provides you with the same features you love today but in a modern, updated design. Some of the new features will include:

Improved user experience & interface.
Ability to reveal a typed passcode on the login screen.
Multifactor Authentication options that mimic Online Banking options.
Fixed recurring transfers for mobile.
New Dynamic/Editable Fields for Transaction and Account Details.
Biometrics for Android (Face ID).
Removal of Preview.
Custom greeting with your name at login.

We are working hard to implement features that are user-friendly and secure. Our RB Mobile upgrade is launching on June 8, 2021. Please note, your Access ID and Passcode will remain the same when installing the mobile application upgrade; however, action may be required to enjoy the new mobile experience.

iPhone Users: If enabled, your phone's auto-update setting should update the application without your interaction; however, there may be conditions with your device that may prevent the update from happening. These conditions include device Wi-Fi, data network settings, or other circumstances that may require a manual update of the existing application. If you are having issues once the new RB Mobile launches, please update your RB Mobile app by following the instructions below:

Open the Apple App Store on your mobile device.
Select your Profile Picture (Person Icon) at the top right corner.
Scroll down to the Upcoming Automatic Updates section.
From here, you can scroll to the RB Mobile App and update it individually.

Android Users: We are implementing a new App URL in Google Play. You will be required to remove the old application and download the latest version from the Google Play Store once available. Users that have auto-update enabled may not have to update their application, but this isn't always guaranteed. If you are having issues once the new RB Mobile launches, please update your RB Mobile app by following the instructions below:

Download the RB Mobile App here, or
Open the Google Play Store app on your mobile device.
Tap Menu Manage apps & devices.
Apps with an update available are labeled "Update available." You can also search for a specific app.
Tap Update.

If you are presented with the "Our Mobile Banking Solution has changed. Please check our website for more information" Error Message, this is a good indicator that your RB Mobile App didn't automatically update. You should follow the steps above to update RB Mobile manually.

Please Note:
Some apps require new permissions when they are updated. You may see a notification directing you to accept the new user terms.
In some cases, you may need to restart your device to update an app.
SMS Text Banking Users: The current short code for text banking is 96865. Beginning June 8, 2021, at 11:00 am CST, we will update to a new two-way long code, 484-218-5851. Please update your RB Text Banking contact on your mobile device. If you utilize text banking, you will be required to re-enroll your device due to regulatory requirements. You can find enrollment instructions within Online Banking settings under Mobile Management.
---
View the RB e-Updates Digital Newsletter: April 2021 Edition
April 27, 2021; 12:00 pm CST: We like to keep our clients updated with the latest and greatest Resource has to offer. Read the April 2021 edition of our bi-monthly newsletter here.
---
Resource Bank Releases Newly Designed Website
February 17, 2021; 8:00 am CST: Resource Bank is pleased to release a refreshed website designed for improved navigation and functionality. Client feedback was considered when creating the new informational site, and a mobile-first approach was prioritized in the design.
The overall branding has a familiar Resource Bank style with slight changes to accommodate a slimmed-down logo and coloring to feature several iconic blue shades. Clients will notice a similar homepage layout and favorited conveniences such as access to the Online Banking portal at the top of every webpage. The site will still highlight images of local photography and culture, with monthly features throughout the year. Upgrades to www.resource.bank include a Mega Menu feature that displays all pages related to topics, a site search function, video demos and tutorials, and product-based FAQs. Resource Bank has seen a shift to mobile use, and we have made the site responsive so similar experiences can be enjoyed across all devices.
This is just one of many recent enhancements to your digital experience. We recently enhanced our digital signature acceptance, upgraded our mobile deposit camera feature, and more Online Banking and Mobile App features are on the roadmap. Our team is working hard to offer timely and relevant services. When you see something you like or something you need, let us know. We are always looking for ways to better your banking experience.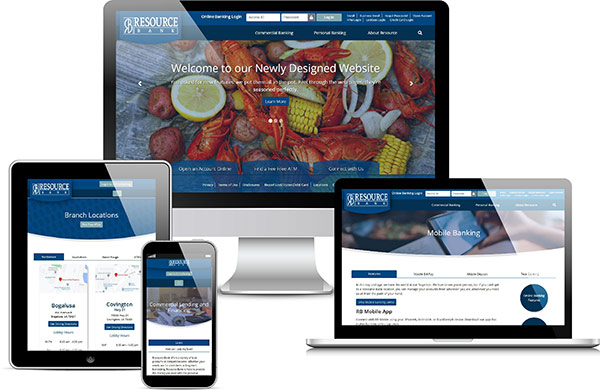 ---
View the RB e-Updates Digital Newsletter: February 2021 Edition
February 11, 2021; 11:15 am CST: We like to keep our clients updated with the latest and greatest Resource has to offer. Read the February 2021 edition of our bi-monthly newsletter here.
Digital Banking Upgrades Scheduled for October 2020
October 1, 2020; 9:00am CST: Resource Bank's digital banking system will push out several updates during the month of October. Beginning October 1st, RB Mobile Check Deposit will have a new camera feature. MiSnap™ introduces an enhanced user experience with instant capture of quality images. Users can now hover over a check image, and MiSnap™ will automatically detect, align and capture a clear, crisp image ready for digital processing. Snapping a photo of your mobile check deposits just got a little smarter with MiSnap™. Try it today via the RB Mobile App.
Two system maintenance windows are scheduled that will result in Digital Banking downtime. Maintenance 1 will begin at 9:00 pm on Saturday, October 3rd for approximately 10 hours, and Maintenance 2 will start at 9:00 pm on Saturday, October 17th for approximately 6 hours. Online Banking, Mobile App Banking, and Voice-24 Phone Banking will temporarily be unavailable during both time frames. Thank you for your patience as we perform this necessary work to ensure you continually receive the best experience possible.
On Wednesday, October 14th, you will see some changes to our text messages for temporary passcodes, security codes/alerts, and account alerts delivery. Currently, these text messages (to your enrolled mobile phone number) are delivered from the following shortcode: 842-32. You may have assigned that number to Resource Bank in your contacts - we want to ensure you know in advance that our messages will start being delivered from a new phone number on the above date.
On Wednesday, October 14th, we will deliver your subscribed banking text messages to your mobile phone from one of the following phone numbers:
+1 209-554-6399
+1 360-502-4564
+1 209-554-6189
+1 254-272-3966
You will be specifically assigned to one of the listed phone numbers above. Once you receive your first message, you may want to save (or re-assign) that phone number in your mobile phone as a contact so you can quickly identify messages as related to your Resource Bank Digital Banking services. Please always think twice before engaging in digital exchanges about your finances. If you ever have concerns, our Digital Banking Support Staff at 985.801.0150 is happy to help if needed.
---
New Franklinton Branch Now Open
September 21, 2020; 8:00am CST: Resource Bank is excited to welcome you to our new location in Franklinton. We've enjoyed serving you for the past 22 years at 950 10th Avenue, but we are so happy to move into our new home. Special thanks to RHH Architects and Voelkel McWilliams Construction, who made our vision a reality. We are also excited to feature local photography from Elizabeth Burris Photography. You can now visit our 2150 square foot, full-service location at 988 Washington Street. Doors open today, Monday, September 21st.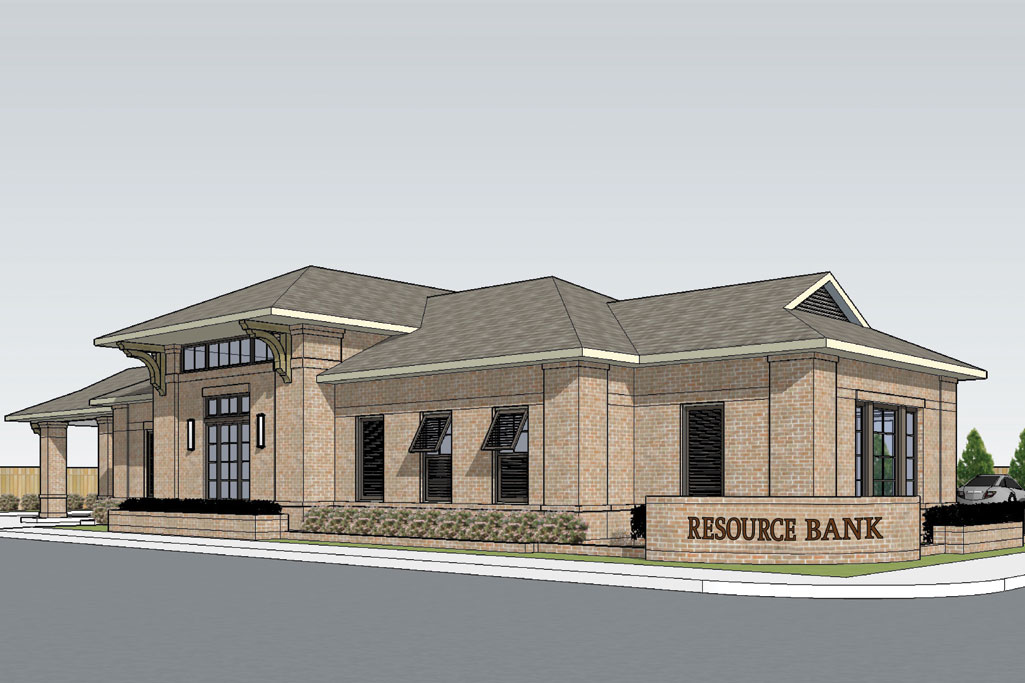 ---
Phishing Alert - Phone Scam Reported
September 19, 2020; 12:00pm CST: Resource Bank has received notification of a current phone scam that is targeting individuals in our community. Robo-calls are coming from a spoofed RB phone number claiming your Resource Bank account is under investigation and a warrant has been issued. This is a scam and is not associated with our bank. Resource Bank does not utilize a recorded call service. We will never call you to ask for your passcode, full social security number, or payment information over the phone. We do not share your email, phone number or other information to collection agencies. Fraudsters are doing everything they can to collect customer information to benefit themselves. Scam emails, texts, and calls may pressure, or even threaten you, to respond. Please ignore them, and call us directly if you have a concern regarding your account: 985-801-0150.
---
Paycheck Protection Program
April 2, 2020; 6:00pm CST: Resource Bank has partnered with Kabbage, an online business lender, to provide you with a digital and secure way to apply for the Paycheck Protection Program. Applications accepted through June 30, 2020.
---
Resource Bank ready to help businesses navigate the CARES Act.
Covington, March 30, 2020: On Friday, March 27, 2020, the House passed—and President Trump signed into law—the Coronavirus Aid, Relief, and Economic Security Act (CARES Act) a $2 trillion stimulus package to provide relief to American consumers and businesses struggling as a result of the coronavirus pandemic.
Many of you are curious about the Paycheck Protection Program (PPP) Overview. PPP is a part of the stimulus package included in the CARES Act. The Program provides nearly $349 billion for small business cash-flow assistance through federally guaranteed loans. Loans can cover payroll support, employee salaries, rent, utilities and other debt obligations to help America's small businesses recover from the economic impacts of COVID-19. Loans are available for up to 250% of an employer's average monthly payroll, with a maximum loan of $10 million dollars. We are waiting for guidance (the fine tuning of PPP is NOT complete) from the SBA.
Currently, eligible business can apply for an Economic Injury Disaster Loan (EDIL) directly through the SBA. We encourage you to visit www.SBA.gov and begin the application process. You will need tax returns for the borrowing entity, Profit and Loss Statements, and Organizational Documents to complete the application.
Once your application is completed, it is our understanding that you will be assigned a registration number for Resource Bank (or our SBA partners). Once all programs are finalized for approval, a direct deposit will be made into your Resource Bank checking account.
We appreciate your business and hope that you stay safe at this time. We are working hard to remain steadfast in our service to you. Thank you for your patience during this time.
The U.S. Chamber of Commerce has provided a fact sheet to help you prepare. See updates on how Resource Bank is responding to COVID-19 here.
---
New Orleans Branch Closes Temporarily
Covington, March 21, 2020: Resource Bank has made the difficult decision to temporarily close our New Orleans CBD branch. The deposit-accepting ATM is operational 24/7. This location does not have drive-thru services, making it hard to adhere to social distancing. Account officers are working remotely and are available by phone or email. We ask clients to use services at our Metairie location. There is no indication that any Resource Bank employee is symptomatic, this is purely a precautionary measure. The health and safety of you and our employees is a top priority. We are fully prepared to serve, see COVID-19 updates here.
---
Scheduled Online and Mobile Banking Maintenance for March 21, 2020
Covington, March 16, 2020: Resource Bank is performing a full system save this Saturday, March 21. While online, mobile, and voice banking will be accessible, the information will not be real-time. Clients will see transaction history until 9pm CST on Saturday, March 21 and data will not be updated until maintenance is complete at approximately 7am Sunday, March 22. Times chosen are to minimize inconvenience. There will be no interruption to debit card services. This is part of our commitment to ensure all systems are working at optimal performance.
---
Resource Bank Implements Precautionary Measures Amidst COVID-19
Covington, March 13, 2020: Resource Bank considers the safety and wellness of our clients, employees and communities a top priority. The bank is monitoring the developing situation of the novel coronavirus, commonly known as COVID-19. We have protocols in place to respond to pandemic events and have already implemented precautionary measures to aide in keeping our community safe.
Our facilities are well stocked with hand and surface disinfecting supplies. We are increasing the frequency of cleaning high traffic and high touch areas. Resource Bank encourages employees and clients to follow CDC and health department recommendations and have advised them to stay home if sick. All non-essential meetings, functions and bank events have been postponed until further notice. It is our goal to minimize the risk of exposure for our staff and clients.
Resource Bank is prepared to fully remain operational at this time. We recommend clients take advantage of our digital capabilities such as online and mobile banking, digital bill pay, mobile check deposit, and online account opening. The bank has recently implemented new systems that allow for increased use of digital signature acceptance. Additionally, now is a good time to ensure all of your contact information is up-to-date with Resource Bank. We encourage clients to reach out and discuss options for conducting business with their account officer.
Resource Bank will continue to monitor the situation as we navigate through this unprecedented event. We are in close contact with our vendors and community officials and are ready to implement additional measures as needed. We are prepared for many employees to work remotely. We regularly test our remote-working business continuity plan to ensure all of our digital services remain fully operational. However, we currently do not believe there is a health risk at any of our facilities The bank will communicate any operational changes via www.resource.bank and the official Facebook page.
---
Resource Bank Franklinton Branch Moving to New Location
Covington, February 28, 2020: Construction is full steam ahead at 988 Washington Street in Franklinton. In August of 2019, Resource Bank announced plans to move its Franklinton Branch to the new site at the corner of Washington and Main Street.
The 2150 square foot building is on target for a fall 2020 completion. RHH Architects is the architectural firm and Voelkel McWilliams Construction is the construction company for the project.
Resource Bank has operated out of its current location, 950 10th Avenue, since September 4, 1998. After twenty-two years of providing banking and lending services in Franklinton, this build shows a continued commitment to the community. The main street location will provide convenient access for clients just around the corner from where they have been banking. The new branch will have dual drive thru lanes, a private conference room, and a 24 hour ATM.
"We are excited to be moving into a new building. This is a great opportunity to be at a very visible location in town", says Cindy Allen, Branch Manager. Resource Bank plans to host a ribbon cutting that will be open to the public. An announcement regarding a date for that event will be released post completion of the build.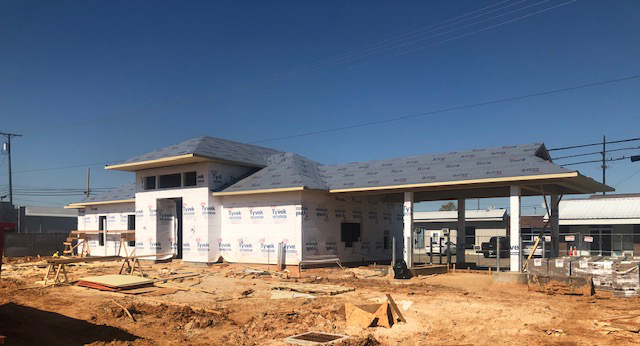 ---
Resource Bank Hosts Art Show Featuring Greg Creason
Covington, February 5, 2020: On Wednesday, February 5th, Resource Bank hosted an Art Show featuring Greg Creason at its New Orleans Branch, located on the corner of Magazine and Poydras. The Bank rotates local artist's displays at this location to fill its gallery walls with their artwork. During that time, Resource hosts an Art Show for family, friends, co-workers and clients to appreciate the art.
Greg Creason moved to New Orleans in 2009 where he has found tremendous inspiration in the lifestyle and art community of New Orleans. Creason's paintings transcend traditional artwork by his use of blown glass scraps and vintage glass pieces. The paintings come "alive" in dimension elegance. Greg holds a Bachelors of Fine Arts Degree in Illustration from Kendall College of Art & Design in Grand Rapids, MI. He currently owns Creason's Fine Art Flagship Gallery at 829 Chartres Street and Creason's Fine Art Gallery II at 831 Chartres, both in the French Quarter.
Creason's artwork will be hanging at Resource Bank's New Orleans branch at 412 Magazine St. until May 15th.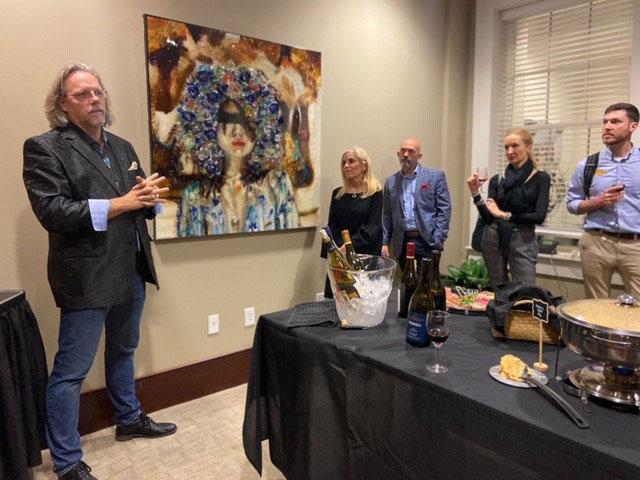 ---
Resource Bank Names Baton Rouge Advisory Board
Covington, January 30, 2020: Resource Bank's Baton Rouge Advisory Board had its inaugural meeting on Thursday, January 30th. Newly appointed Advisory Board members are Lori Boeneke of Wampold Companies; Randy Cangelosi of Kean Miller LLP; Craig Greene of Craig Castleman Greene, MD, MBA; Mike Lloyd of GVSI, LLC; Daniel Robinson of RRDM Wealth Management Partners; Carlos Spaht of Alexander Sides, Attorneys at Law; Nick Speyrer of Emergent Method; Michael Uffman of Marucci Sports; Todd Waguespack of Level Homes; and current Resource Bank Board Member, Trula Remson of RHH Architects.
"I look forward to working with the group and am confident their support and ties to the Baton Rouge community will have a positive impact on Resource Bank." – Bobby Fahey
Resource Bank has been in the Baton Rouge community for 4 years and operates under Baton Rouge Market Leader Bobby Fahey. The group will meet frequently at the Baton Rouge Branch located at 9513 Jefferson Highway.
---
Clair Leger Named Chief Financial Officer
Covington, January 15, 2020: Resource Bank names Clair Leger Executive Vice President and Chief Financial Officer. Leger, who joined Resource in 2015 has served as Controller, Lead Financial Officer and Senior Vice President.
Leger is a native to Mississippi, where she earned her degree in Accounting. As an undergraduate, she began working in the Banking Industry. Upon graduation, Leger worked for Deloitte and Touche auditing banking clients. She is nearing her eighteenth year in the banking industry.
Leger was recently honored with the 2019 Kiwanis New Member Award for her volunteer efforts. She also volunteers at LynHaven Women's Shelter by bringing warm meals, visiting and hosting activities, and arranging donation drives to collect cold and flu medicine for the residents. In addition, Leger volunteers at the Ronald McDonald House by making meals for the families staying there.
In her free time, Leger enjoys cooking and gardening. She also spends time working on her rental properties and traveling to national parks: the Grand Canyon, Yosemite, Yellowstone, Arches, Zion, and Bryce Canyon to name a few.
Clair says, "I love working at Resource Bank because we are a community bank that values getting to know our customer's business and dreams."
---
Krewe of MCCA Toast to the King and Queen
Bogalusa, January 23, 2020: On Thursday, February 23rd, Resource Bank toasted to King Terry and Queen Amber of the Krewe of MCCA parade. The parade will run through Bogalusa on February 22nd in Bogalusa from 1:00pm - 3:00pm.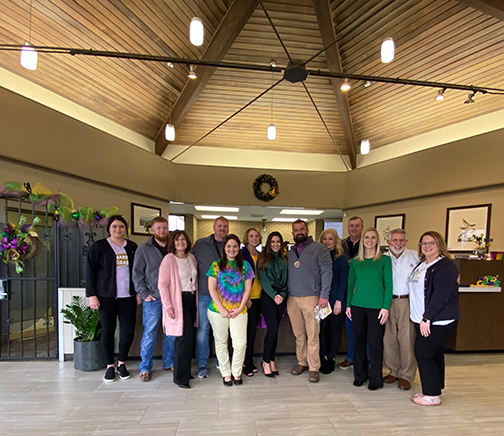 Resource Bank Welcomes Kirk Maynard
Baton Rouge, December 30, 2019: Resource Bank welcomes Kirk Maynard as a Senior Commercial and Private Banker and Senior Vice President with Resource Bank. Maynard joins the Baton Rouge team at 9513 Jefferson Highway. A lifelong resident of Baton Rouge, Kirk proudly graduated from the University of Louisiana at Lafayette with a degree in Finance. During and after his college career, he was a Staff Sargent in the Air National Guard 159th Fighter Squadron. After graduation, Kirk moved to Baton Rouge to become a Consumer Underwriter/Analyst, which led to a role in Business Underwriting, eventually leading to Commercial Lending where he has spent the last 13 years of his career. Prior to joining Resource, he served as Chief Lending Officer for Plaquemine Bank & Trust. Kirk has been actively involved in serving the Baton Rouge community through his work with various organizations. He was a member of the Baton Rouge Chamber's Leadership Program in 2010, the Iberville Chamber's Leadership Program Class of 2018, and coached for the Gonzales Soccer Club. Please join us in welcoming Kirk to the Resource Bank team!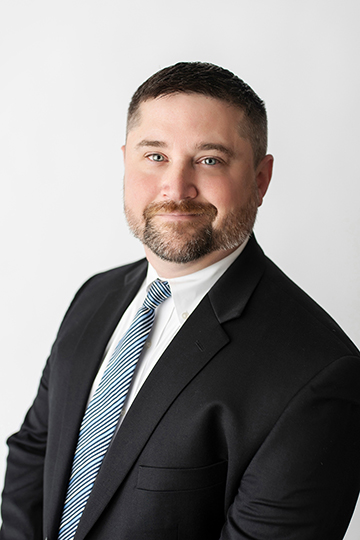 ---
The Vincent Liberto Jr., Fund
Covington, September 23, 2019: The Greater Mandeville Police Foundation has established a donation account at Resource Bank for the "VINCENT LIBERTO JR., FUND". All donations received will be presented to Captain Liberto's immediate family by The Greater Mandeville Police Foundation. For official information regarding memorial fundraising, questions can be directed to the Mandeville Police Department. Donations are accepted at any Resource Bank location or by clicking the donation button below. Your generosity is appreciated.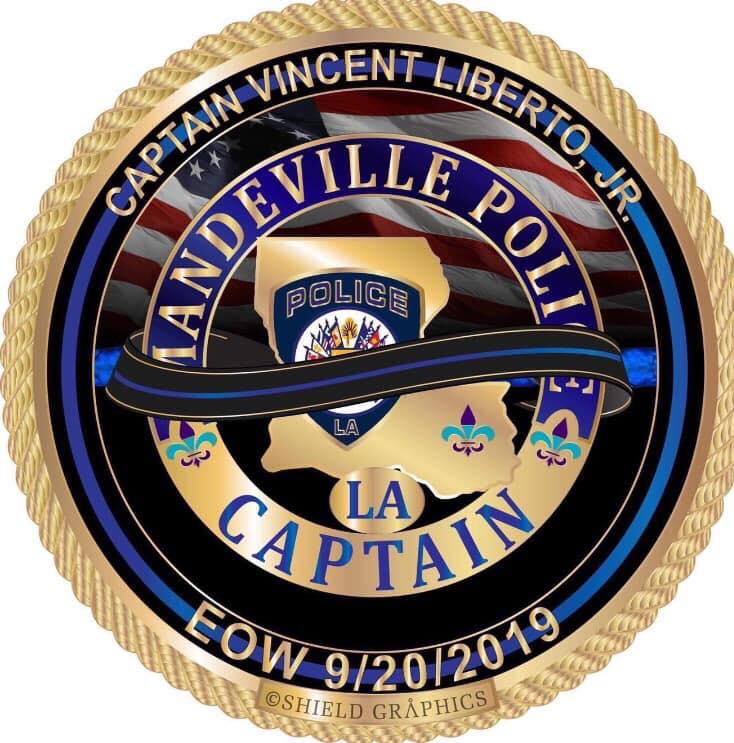 ---
October is Customer Appreciation Month
Let's celebrate you! Resource Bank invites you to the 21st Annual Customer Appreciation Cookouts. Stop by your local branch and enjoy lunch on us. It's a small way to thank you for your business and referrals. View the October cookout schedule below. Follow us on
Facebook
to get cookout updates and RSVP to our events.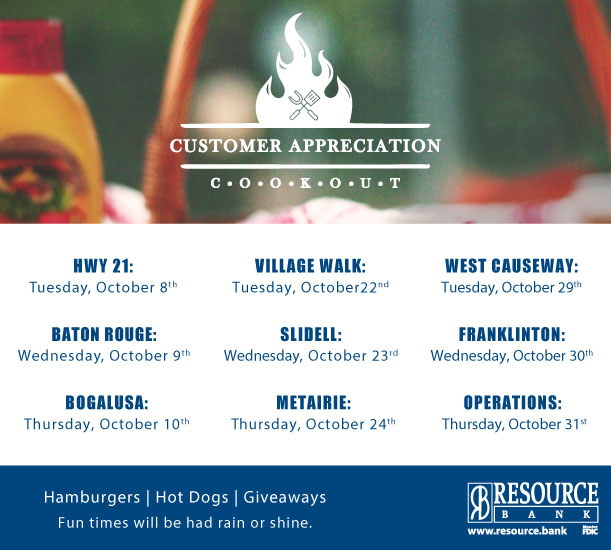 ---
Night Owl? No Problem.
---
Women's Restoration
Hammond, September 19, 2019: Resource Bank employees Clair Leger and Teresa Morel made a package delivery to LynHaven Retreat. They delivered dozens of supplies needed to get the residents through cold and flu season. These supplies are necessary for the retreat to keep residents healthy and strong throughout their stay so that they can focus on their recovery. LynHaven is operated by the New Orleans Mission, a Christian humanitarian organization dedicated to working with homeless and hurting people to help them reach their full potential through rescue, recovery, and re-engagement. View more about LynHaven.
---
White Linen Night
Covington, August 17, 2019: On Saturday August 17th, Resource participated in Covington's White Linen Night. This event benefited Covington's Public Art Fund and was put on in conjunction with the Covington Business Association. It was a hot, Louisiana August night but that did not stop the community from celebrating our wonderful local artists. Clad in their white outfits, patrons walked down Columbia Street stopping in art galleries, restaurants, and businesses to view local artwork. Resource participated in the festivities with a "cool down station." Resource provided ice cold water and refreshing towelettes to keep guest hydrated as well as a shaded seating area with fans to rest and cool off.
---
Gilsbar Financial Education Presentation
Covington, August 14, 2019: On Thursday, August 14th Resource Bank gave a financial education presentation to employees of Gilsbar as part of their wellness program. The presentation focused on financial wellness and how to achieve it. Topics included budgeting basics, building up a strong savings portfolio, and minimizing unhealthy debt. Resource enjoys the opportunity to go out into the community and share tips and tools with community members to build a strong financial background.
---
Christwood Breakfast and Banking
Covington, August 9, 2019: On Friday, August 9, 2019 Resource Bank visited with residents of Christwood Retirement Community. Bank employees and residents enjoyed coffee and pastries while getting to know each other. Resource attendees included Patrick Collins, Cathy Galley, Fran Tynes, Taylor Keller, and Olivia Bailey. Resource introduced themselves and gave an overview of what they do for the bank and how they can be of service to residents. Residents enjoyed the opportunity to ask questions about Resource and learn about how we operate. Our employees always enjoy the opportunity to visit with and meet new residents of Christwood. Resource operates a satellite branch at Christwood that is open on Tuesday and Thursdays.
---
21st Bank Anniversary
July 20, 2019: On July 20th of this year, Resource Bank celebrated its 21st anniversary! Resource opened its doors on July 20, 1998 with one branch in Mandeville and quickly began to grow. Today, Resource has expanded to 11 branches throughout Southeastern Louisiana organically, without merger or acquisition. Our philosophy has held true throughout the 21 years of operation: to provide high quality service, knowledgeable personnel and active community participation. Resource celebrated by handing out sweet treats throughout the day to customers who visited branches on Friday the 19th. We look forward to the next 21 years of service to our clients and community!
---
Gulf Coast Elder Abuse Conference
Slidell, June 25-27, 2019: In June, Resource Bank participated in the annual Gulf Coast Elder Abuse Conference. The conference took place between June 25 – 27, 2019. During the conference, attendees participated in seminars and continuing education classes on topics such as Safeguarding Seniors from Scams and Safe Banking for Seniors. Our very own Shannon Bain attended the conference this year. She not only participated in various lectures but also set up a booth at the "It's Your Money" senior event at the Slidell City Auditorium. At this event, Shannon met with our community's seniors and answered any questions they may have had about Resource Bank or just general banking. We hope to see you at next year's Elder Abuse Conference!
---
Kokomo Stroll
Covington, June 22, 2019: On Saturday June 22nd, Resource Bank participated in Kokomo Stroll in Downtown Covington. During this event, patrons strolled around downtown and stopped to sample a summer cocktail or small plate at "Stroll Stops" along the way. The event worked to promote our many local businesses and strengthen the community. Resource Bank was in attendance and served a delicious Rum Punch, flavored water, and offered a raffle. This event was organized by the Covington Business Association and Resource Bank was the presenting Sponsor.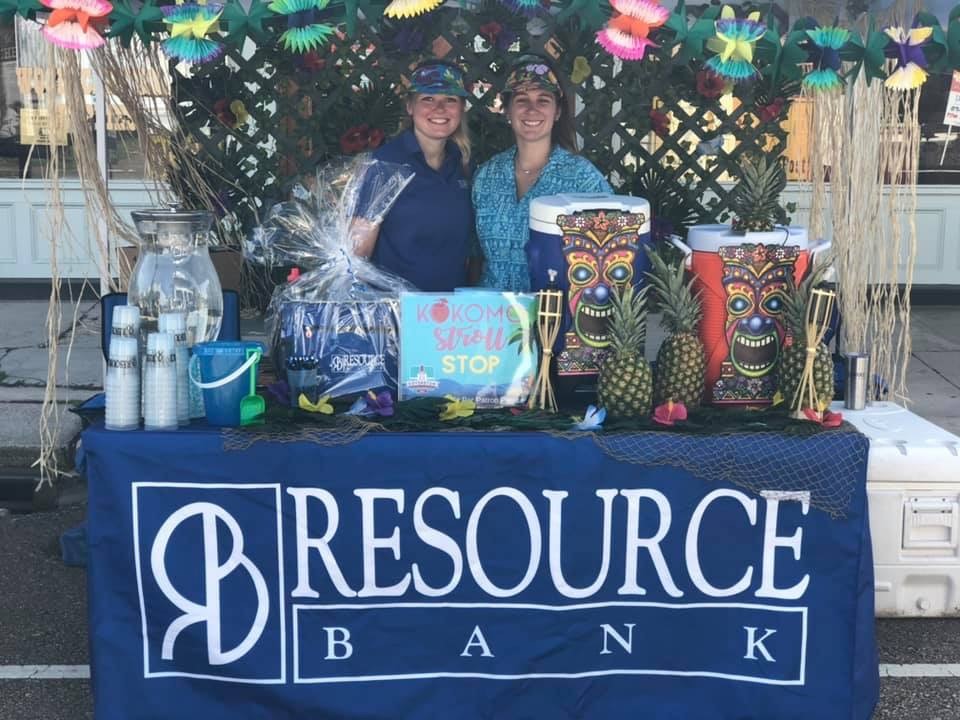 ---
Megan Martinez Installs Artwork at Resource Bank CBD Branch
New Orleans, June 15, 2019: On Saturday, June 15th new artwork was installed at Resource Bank's CBD location. This was the second installation of the year in Resource's artist program. Local New Orleans artist Megan Martinez installed her work throughout the branch. Megan's work is a mixture of acrylic and mixed media pieces on canvas. Her lively and abstract works in this collection bring a since of whimsy into the branch. You can view Megan's artwork in the branch from June to September.
---
Wesley Ray Summer Camp Financial Education Class
Bogalusa, June 12, 2019: On Wednesday June 12th, Resource Bank visited Wesley Ray Elementary School's 4H Summer camp. Community Development Coordinator, Olivia Bailey, taught campers ages 5-10 the basics of spending, saving, and budgeting. Campers "worked" while participating in the presentation and earned quarters for their participation. At the end of the presentation campers could either save their earnings or spend them in the "RB Gift Shop." All in attendance had a great time learning about financial responsibility!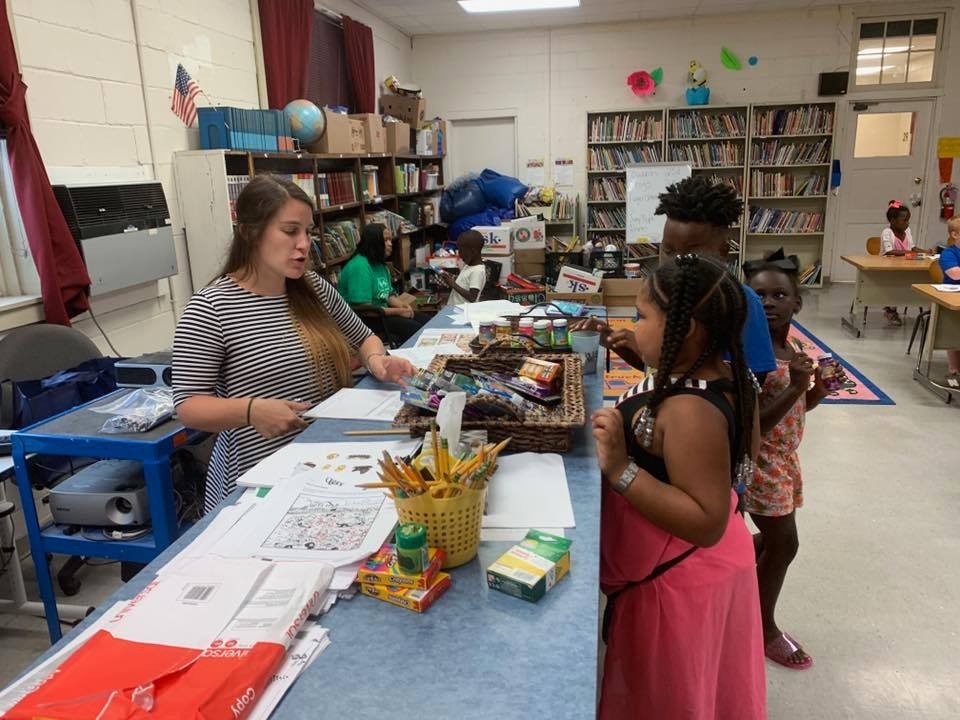 ---
Pam Soileau Installs Artwork in Resource Bank CBD Branch
New Orleans, February 19, 2019: On Tuesday, February 19th new artwork was installed at Resource Bank's Downtown New Orleans branch at 412 Magazine Street. This is the first artist of the year to be featured in Resource's Art Showcase Program. Each quarter a new local artist is selected to display a selection of their work in the historic CBD building. This quarter's artist is Northshore local, Pam Soileau. Soileau is a passionate lifelong painter who uses vibrant colors to depict her subject. She paints a number of abstract pieces with acrylic paint on canvas. Her pieces are truly unique and will set the stage for the upcoming spring season. You can view her art in our branch now through June. We are excited to welcome Pam and her art to Resource Bank!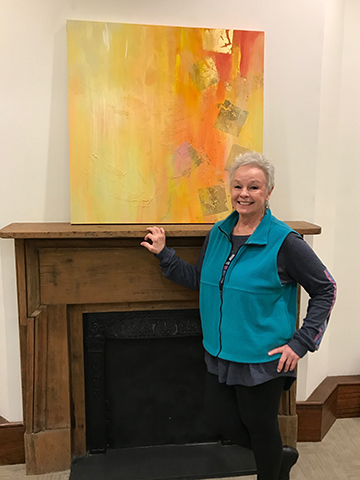 ---
"Money Management" Financial Education Seminar
New Orleans, February 12, 2019: On Tuesday February 12, Resource Bank visited Ozanam Inn and hosted a financial education seminar as part of the Inn's Life Skills Program. The seminar focused on "money management" and was presented by Resource Bank's Keith Freire, a Commercial and Private Banking Officer. Topics covered included how to build a budget, improve your credit score, and prevent identity theft. Keith has worked with Ozanam Inn for the past 5 years teaching similar classes and will continue to do so throughout the year. Ozanam Inn is a non-profit, direct service agency serving the homeless and needy of greater New Orleans. All services are provided free-of-charge. The Inn was established in 1955 by the Society of St. Vincent de Paul and named in honor of Frederick Ozanam, who founded the Society in 1852.
---
"Safe Banking for Seniors" Financial Education Seminar
Covington, February 9, 2019: On Friday February 9th, Resource Bank hosted a Financial Education Seminar for the residents of Christwood Retirement Community in Covington, Louisiana. Information presented focused on "Safe Banking for Seniors." Nearly 25 residents attended the seminar that was presented by Sarah LaRocca, Olivia Bailey, Patrick Collins and Cathy Galley. The agenda covered topics such as how to protect assets and prevent theft, how your bank can help spot fraud, and what to do if you suspect fraud. This was the first of the 2019 quarterly series aimed at providing residents with continual education on current banking practices. Future seminars will focus on preventing elder financial abuse, budgeting, and cybersecurity.
---
New Orleans Artist Party Featuring Jay Appurao
New Orleans, January 9, 2019: On Wednesday, January 9th, Resource Bank hosted our quarterly Artist Party at our New Orleans Branch located on the corner of Magazine and Poydras. Every four months we have a new artist fill our gallery walls with their artwork and during that time, we host an Artist Party for family, friends, co-workers and clients to appreciate the art.
Jay Appurao, more commonly known as Dr. Jay, is a "totally self taught artist and mostly does Oil paintings and Drawings with Oil Pastels and, Graphite. He jumps between photorealism to impressionism often. He also jumps from natural scenes to still like portraits. All of his travels to many countries, some of them exotic like Iceland, tend to allow for a great variation in a study of beautiful peoples and scenery."
We had a total of 45 guest who enjoyed a wine tasting by James Moises of Bizou Wines, and hors d'oeuvres. A great time was had by all.
---
Krewe of MCCA Toast to the King and Queen
Bogalusa, February 6, 2019: On Wednesday, February 6th, Resource Bank toasted to King Barber and Queen Goode of the Krewe of MCCA parade. The parade will run through Bogalusa on March 1st from 1:00pm - 3:00pm. Listed from left to right: Megian Farias, Kristal Holcomb, Darla Breland, Bridget Owens, King Barber, Queen Goode, Cindy Allen, and Jake Runfalo.
Hunt Vaughn Named Northshore Market Leader
Covington, November 21, 2018: Hunt Vaughn has been named Resource Bank's Northshore Market Leader as of November 21, 2018.
A native resident of Mandeville, Hunt Vaughn is a graduate of Fontainebleau High School. Mr. Vaughn attended LSU where he received his Bachelor of Arts with a concentration in Finance. He has proudly worked for locally owned Resource Bank for the past 14 years and currently is a Senior Vice President in Commercial Banking and newly named Northshore Market Leader.
"Hunt is a great asset to Resource Bank and we are happy to appoint him as the inaugural holder of this newly established position. He has gone above and beyond in the Commercial Banking Department. His experience in the industry and deep roots in the local market adds value to our team and to our clients." Pat Campbell, CLO
During his tenure, he has had the opportunity to attend the Graduate School of Banking and serve on several fundraising committees/memberships for our local Home Builders Association, the Northshore Kiwanis Club, and was a mentor of the Northshore Young Entrepreneurs Academy. Hunt, along with his wife and two children reside on the Northshore and continue to look for opportunities to better the community for future generations.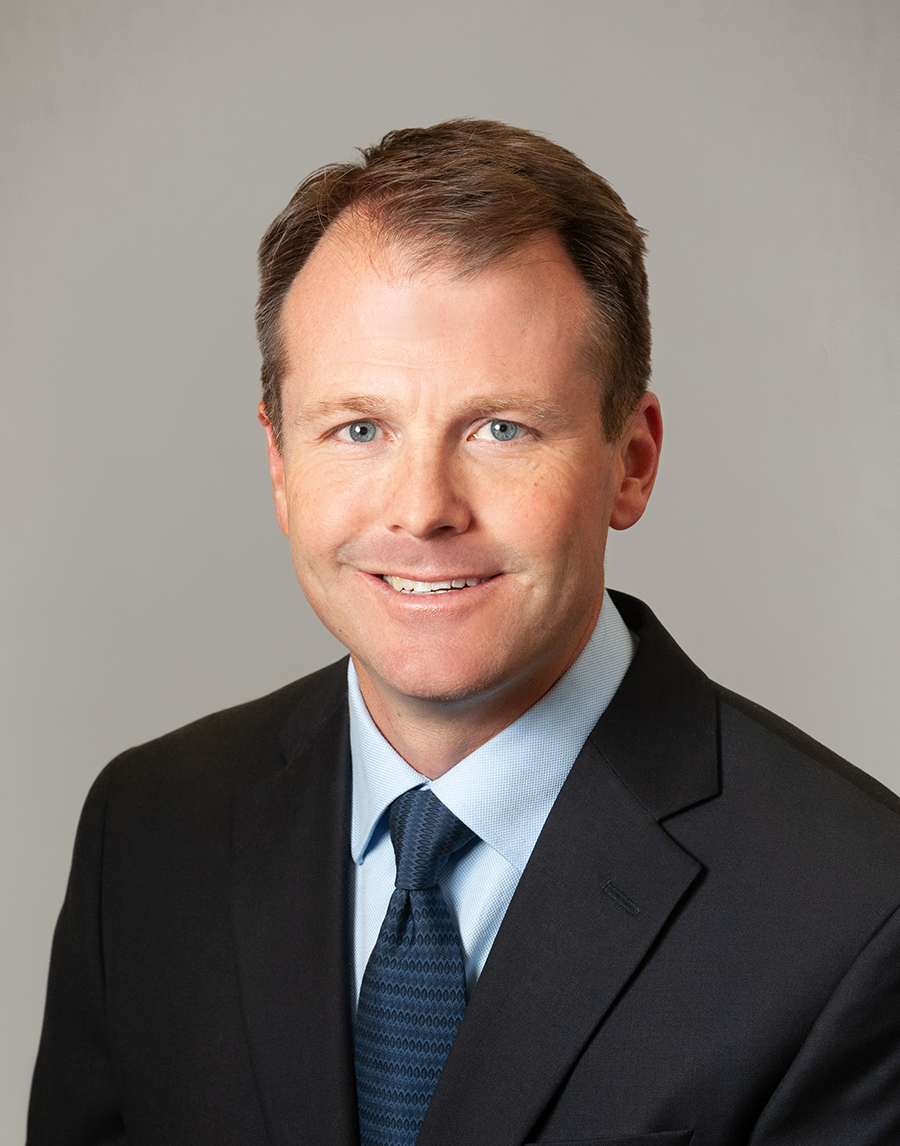 ---
2018 Customer Appreciation Cookouts
Covington, October 26, 2018: Resource Bank finished out our Twentieth Annual Customer Appreciation Cookouts with serving a total of 1,725 burgers, 530 hot dogs, and 432 pieces of our newest addition, chicken. We look forward to this event each year, and are very thankful to have such wonderful customers.
---
Trula Remson Joins Resource Bank's Board of Directors
Covington, July 25, 2018: : Resource Bank announced the appointment of Trula H. Remson, architect and founding principal of Remson, Haley, Herpin Architects, to its board of directors effective today.
Originally from Bogalusa, Trula attended Louisiana State University graduating Magna Cum Laude from the College of Design. Trula along with her husband, Christopher Remson, founded Remson, Haley, Herpin Architects in Baton Rouge over 23 years ago. RHHA has grown from a literal "mom and pop operation" to an award winning 16-person firm with 10 licensed architects offering architectural and design services regionally.
"Trula exemplifies the spirit of our community and brings creative energy to the table. We are very fortunate to have her join us as we continue to strengthen relationships in the areas surrounding Baton Rouge, our newest market." Chris Keller, CEO.
Trula has been actively involved in the American Institute of Architects at all levels. She served as AIA Baton Rouge President in 2001, AIA Louisiana President in 2005, and as a Regional Director for the AIA National Board from 2007 to 2010 and is still actively involved with AIA Baton Rouge. Trula was recognized with Baton Rouge Business Report's "Top 40 under 40" in 2004 and the "Influential Women in Business Award" in 2006. Although, her proudest professional accomplishment was being admitted to the AIA College of Fellows in 2015, an honor awarded to members who have made significant contributions to the profession.
With the appointment of Remson, Resource Bank's board consists of 10 members, including: G. Chris Keller, Jr., chairman, CEO, Resource Bank; Chandler Craig, Jr., vice chairman, president, Resource Bank; Michael B. Burris, lead director, CPA; David A. Briggs, Jr., president, David Briggs Enterprises, Inc.; J. Storey Charbonnet, partner, Johnson Rice & Company, LLC, Dennis E. Crowe, president, Magee Financial Corporation; Maura W. Donahue, vice president and co-owner, DonahueFavret Contractors, Inc.; Katherine M. Gibert, CPA & principal, Southern Wealth Management, LLP; David Lindsey former CFO, Resource Bank. Please join us in welcoming Trula to the Resource Bank team.
---
Dial in on Your Spending with Transaction Categorization in Online Banking
Covington, March 23, 2018: We are pleased to announce new features are coming as part of our Digital Banking enhancements. Beginning on Monday, April 23rd, you'll be able to quickly set limits on expense categories you want to watch including your overall spending. You will see a narrowed down list of categories to the ones most commonly used when trying to achieve financial goals. You will be able to easily see the big picture of your spending habits on your personal accounts.
Automatic categorization of each transaction and clean, understandable transaction descriptions will be available throughout your Digital Banking experience. And if you feel the transaction belongs in another category or the description is incorrect – click and categorize it or modify the description – the system will learn your preferences over time. Not to worry about any expenses that don't fit nicely into the new categories as you can still add up to 15 of your own custom categories to meet your specific needs. In preparation for the upcoming category changes we suggest you download transactions for the past year prior to the April 23rd release date for your upcoming tax preparation and for your historical records.
You can set notifications to get regular updates on your overall spending or how close to your specific category limits you are – in just a few clicks. Now you are in a position to know exactly how your spending habits are impacting your finances.
We are constantly working to provide you with relevant tools to improve your banking experience - we hope these enhancements allow you to easily manage your finances in one place, with Resource Bank. As always, we appreciate your business.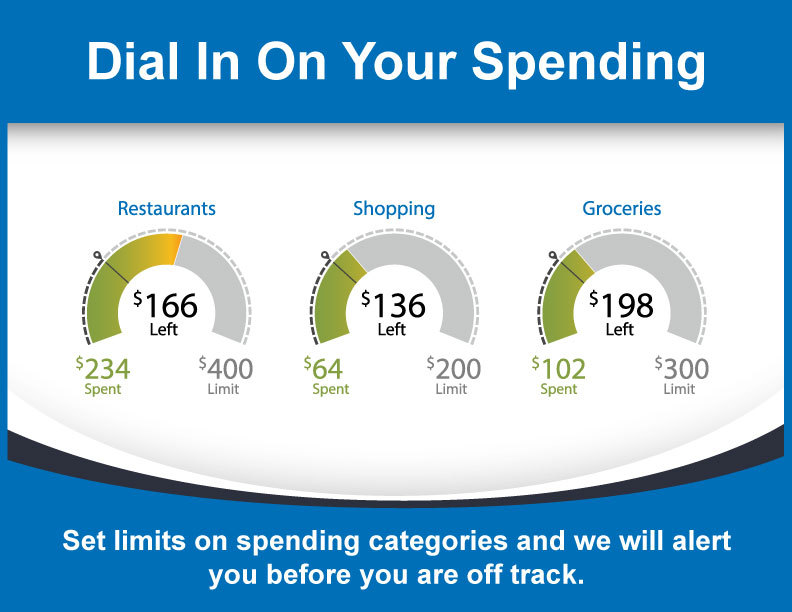 Customer Appreciation BBQs
Covington, October 26, 2017: Resource Bank completed the Nineteenth Annual Customer Appreciation BBQs. This event has really grown throughout the years. Resource Bank employees set up a spread of hamburgers and hot dogs so guest can dine picnic style under tents at nine of the eleven bank locations. "We look forward to the annual BBQ every year. It's a way for us to sit down and visit with our customers and community members," Fran Tynes, Marketing Manager, Resource Bank, said. Employees served close to 2000 hamburgers and over 500 hot dogs at this year's month long event.
---
Resource Bank Celebrates Baton Rouge Branch Completion
Baton Rouge, September 22, 2017: Resource Bank held a Ribbon Cutting and Grand Opening event on Thursday, September 21, 2017, at the newly built branch located at 9513 Jefferson Highway, intersecting Bluebonnet Boulevard. The Baton Rouge Area Chamber presented Chairman of the Board and CEO, Chris Keller, with gold scissors to cut the ribbon officially opening the bank's tenth full service branch. Resource entered the Baton Rouge area in May of 2016 and operated a loan production office during the construction of the 5,000 square foot facility. Representatives from the contracting firm, DonahueFavret Contractors, and architectural firm, Remson Haley Herpin Architects, were also present at the hosted event.
The opening of the East Baton Rouge location marks Resource Bank's expansion into their fifth parish. Market Leader, Bobby Fahey, is excited to open the doors to the branch. "The 'bank on the hill' is ready to serve our community. Our Baton Rouge team is ready to provide smiling customer service and personalized solutions for your banking needs." The Baton Rouge team includes Bobby Fahey, Senior Commercial and Private Banking Officer and Market Leader; Dean Bartels, Senior Commercial and Private Banking Officer, Senior Vice President; Chris K. Lee, Commercial and Private Banking Officer, Vice President; Tranisha Maracalin, Commercial and Private Banking Associate, Banking Officer; Andrew Lato, Branch Manager, Vice President; Reid Regouffre, Lead Personal Banker and Relationship Manager; and personal bankers, Veronica Medus and Beth Williams.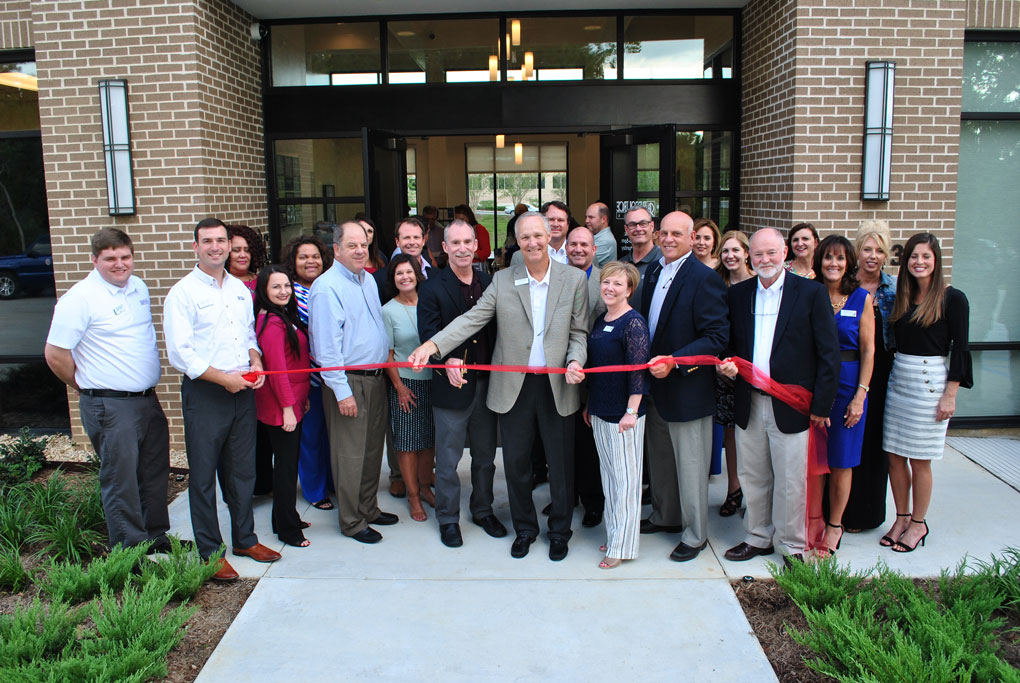 Local Banking. Better Banking.
985.801.1888
Baton Rouge | Bogalusa | Covington | Franklinton | Mandeville | Metairie | New Orleans | Slidell
Holiday Closures
View RB holiday closures.
Learn More