Online Banking: October 24th Update
October 7, 2021: Resource Bank is pleased to soon release a refreshed look to Online Banking. This will be implemented overnight Sunday, October 24th, during our regular maintenance window. Key points of the refresh include:
Improved navigation and toolbar icons.
Ability to customize right column widget displays.
Commercial users will now be able to create Account Groups to view a subset of accounts quickly.
Upon initial log in, you may be asked to agree to updated user terms and disclosures.
Login credentials will not be affected.
No other banking portals will be affected.

You can find details of the new look, including screen images, here.

---

Changes to U.S. First-Class Mail delivery times may impact you.

October 1, 2021: Effective October 1, 2021, the United States Postal Service (USPS) has revised its service standards for certain First-Class Mail items, resulting in a delivery window of up to five days. Please note that this may delay your receipt of mail from us and our receipt of mail from you (including mailed statements, documents, cards, and payments). Read more about the change: here.

Now is a great time to sign up for our digital features like eStatements.

---

View the RB e-Updates Digital Newsletter: September 2021 Edition

September, 2021; 3:15 pm CST: We like to keep our clients updated with the latest and greatest Resource has to offer. Read the September 2021 edition of our bi-monthly newsletter here.

---

Digital Banking Enhancements Announced; Client Action Required

Update 6/16/2021: RB Mobile App update is now available.

RB App for iPhone RB App for Andriod

Users must have the latest software update on their device before updating or downloading the app.

---

Update 5/20/2021: Launch date moved from May 25th to June 8th. Notice below is reflective of this change.

---

May 4, 2021; 12:30 pm CST: We are excited to announce an upgrade coming to your RB Mobile App, SMS Text Banking, and Voice-24 Telephone Banking.

RB Mobile App Update: This upgrade provides you with the same features you love today but in a modern, updated design. Some of the new features will include:

Improved user experience & interface.
Ability to reveal a typed passcode on the login screen.
Multifactor Authentication options that mimic Online Banking options.
Fixed recurring transfers for mobile.
New Dynamic/Editable Fields for Transaction and Account Details.
Biometrics for Android (Face ID).
Removal of Preview.
Custom greeting with your name at login.

We are working hard to implement features that are user-friendly and secure. Our RB Mobile upgrade is launching on June 8, 2021. Please note, your Access ID and Passcode will remain the same when installing the mobile application upgrade; however, action may be required to enjoy the new mobile experience.

iPhone Users: If enabled, your phone's auto-update setting should update the application without your interaction; however, there may be conditions with your device that may prevent the update from happening. These conditions include device Wi-Fi, data network settings, or other circumstances that may require a manual update of the existing application. If you are having issues once the new RB Mobile launches, please update your RB Mobile app by following the instructions below:

Open the Apple App Store on your mobile device.
Select your Profile Picture (Person Icon) at the top right corner.
Scroll down to the Upcoming Automatic Updates section.
From here, you can scroll to the RB Mobile App and update it individually.

Android Users: We are implementing a new App URL in Google Play. You will be required to remove the old application and download the latest version from the Google Play Store once available. Users that have auto-update enabled may not have to update their application, but this isn't always guaranteed. If you are having issues once the new RB Mobile launches, please update your RB Mobile app by following the instructions below:

Download the RB Mobile App here, or
Open the Google Play Store app on your mobile device.
Tap Menu Manage apps & devices.
Apps with an update available are labeled "Update available." You can also search for a specific app.
Tap Update.

If you are presented with the "Our Mobile Banking Solution has changed. Please check our website for more information" Error Message, this is a good indicator that your RB Mobile App didn't automatically update. You should follow the steps above to update RB Mobile manually.

Please Note:
Some apps require new permissions when they are updated. You may see a notification directing you to accept the new user terms.
In some cases, you may need to restart your device to update an app.
SMS Text Banking Users: The current short code for text banking is 96865. Beginning June 8, 2021, at 11:00 am CST, we will update to a new two-way long code, 484-218-5851. Please update your RB Text Banking contact on your mobile device. If you utilize text banking, you will be required to re-enroll your device due to regulatory requirements. You can find enrollment instructions within Online Banking settings under Mobile Management.
---
View the RB e-Updates Digital Newsletter: April 2021 Edition
April 27, 2021; 12:00 pm CST: We like to keep our clients updated with the latest and greatest Resource has to offer. Read the April 2021 edition of our bi-monthly newsletter here.
---
Resource Bank Releases Newly Designed Website
February 17, 2021; 8:00 am CST: Resource Bank is pleased to release a refreshed website designed for improved navigation and functionality. Client feedback was considered when creating the new informational site, and a mobile-first approach was prioritized in the design.
The overall branding has a familiar Resource Bank style with slight changes to accommodate a slimmed-down logo and coloring to feature several iconic blue shades. Clients will notice a similar homepage layout and favorited conveniences such as access to the Online Banking portal at the top of every webpage. The site will still highlight images of local photography and culture, with monthly features throughout the year. Upgrades to www.resource.bank include a Mega Menu feature that displays all pages related to topics, a site search function, video demos and tutorials, and product-based FAQs. Resource Bank has seen a shift to mobile use, and we have made the site responsive so similar experiences can be enjoyed across all devices.
This is just one of many recent enhancements to your digital experience. We recently enhanced our digital signature acceptance, upgraded our mobile deposit camera feature, and more Online Banking and Mobile App features are on the roadmap. Our team is working hard to offer timely and relevant services. When you see something you like or something you need, let us know. We are always looking for ways to better your banking experience.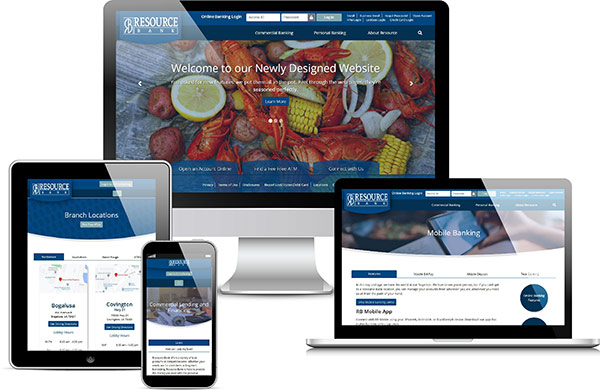 ---
View the RB e-Updates Digital Newsletter: February 2021 Edition
February 11, 2021; 11:15 am CST: We like to keep our clients updated with the latest and greatest Resource has to offer. Read the February 2021 edition of our bi-monthly newsletter here.
Digital Banking Upgrades Scheduled for October 2020
October 1, 2020; 9:00am CST: Resource Bank's digital banking system will push out several updates during the month of October. Beginning October 1st, RB Mobile Check Deposit will have a new camera feature. MiSnap™ introduces an enhanced user experience with instant capture of quality images. Users can now hover over a check image, and MiSnap™ will automatically detect, align and capture a clear, crisp image ready for digital processing. Snapping a photo of your mobile check deposits just got a little smarter with MiSnap™. Try it today via the RB Mobile App.
Two system maintenance windows are scheduled that will result in Digital Banking downtime. Maintenance 1 will begin at 9:00 pm on Saturday, October 3rd for approximately 10 hours, and Maintenance 2 will start at 9:00 pm on Saturday, October 17th for approximately 6 hours. Online Banking, Mobile App Banking, and Voice-24 Phone Banking will temporarily be unavailable during both time frames. Thank you for your patience as we perform this necessary work to ensure you continually receive the best experience possible.
On Wednesday, October 14th, you will see some changes to our text messages for temporary passcodes, security codes/alerts, and account alerts delivery. Currently, these text messages (to your enrolled mobile phone number) are delivered from the following shortcode: 842-32. You may have assigned that number to Resource Bank in your contacts - we want to ensure you know in advance that our messages will start being delivered from a new phone number on the above date.
On Wednesday, October 14th, we will deliver your subscribed banking text messages to your mobile phone from one of the following phone numbers:
+1 209-554-6399
+1 360-502-4564
+1 209-554-6189
+1 254-272-3966
You will be specifically assigned to one of the listed phone numbers above. Once you receive your first message, you may want to save (or re-assign) that phone number in your mobile phone as a contact so you can quickly identify messages as related to your Resource Bank Digital Banking services. Please always think twice before engaging in digital exchanges about your finances. If you ever have concerns, our Digital Banking Support Staff at 985.801.0150 is happy to help if needed.
---
New Franklinton Branch Now Open
September 21, 2020; 8:00am CST: Resource Bank is excited to welcome you to our new location in Franklinton. We've enjoyed serving you for the past 22 years at 950 10th Avenue, but we are so happy to move into our new home. Special thanks to RHH Architects and Voelkel McWilliams Construction, who made our vision a reality. We are also excited to feature local photography from Elizabeth Burris Photography. You can now visit our 2150 square foot, full-service location at 988 Washington Street. Doors open today, Monday, September 21st.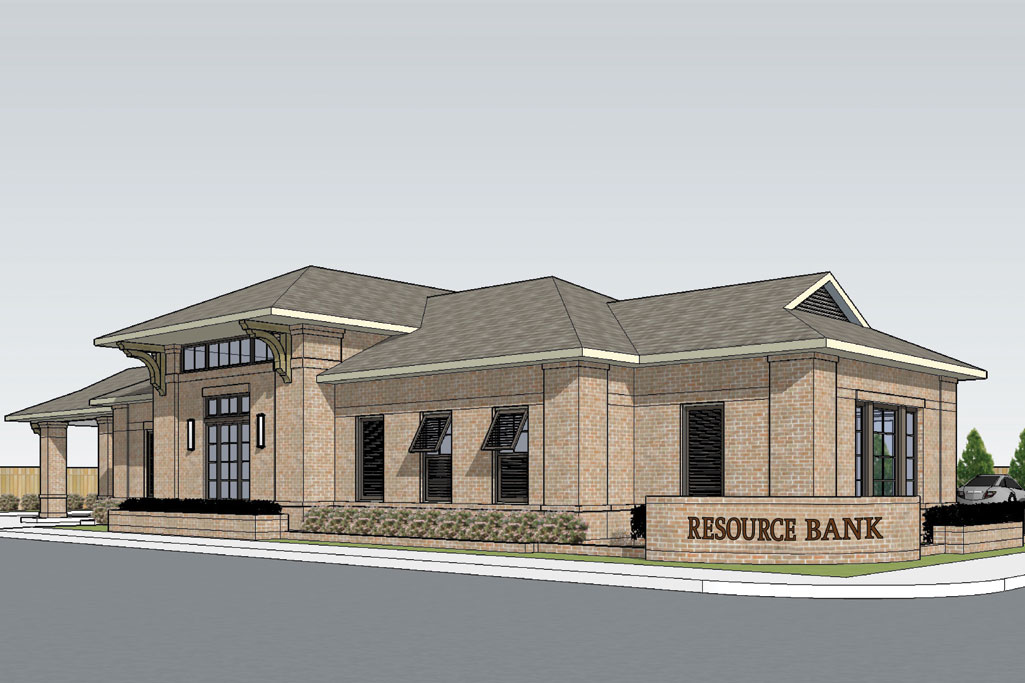 ---
Phishing Alert - Phone Scam Reported
September 19, 2020; 12:00pm CST: Resource Bank has received notification of a current phone scam that is targeting individuals in our community. Robo-calls are coming from a spoofed RB phone number claiming your Resource Bank account is under investigation and a warrant has been issued. This is a scam and is not associated with our bank. Resource Bank does not utilize a recorded call service. We will never call you to ask for your passcode, full social security number, or payment information over the phone. We do not share your email, phone number or other information to collection agencies. Fraudsters are doing everything they can to collect customer information to benefit themselves. Scam emails, texts, and calls may pressure, or even threaten you, to respond. Please ignore them, and call us directly if you have a concern regarding your account: 985-801-0150.
---
Paycheck Protection Program
April 2, 2020; 6:00pm CST: Resource Bank has partnered with Kabbage, an online business lender, to provide you with a digital and secure way to apply for the Paycheck Protection Program. Applications accepted through June 30, 2020.
---
Resource Bank ready to help businesses navigate the CARES Act.
Covington, March 30, 2020: On Friday, March 27, 2020, the House passed—and President Trump signed into law—the Coronavirus Aid, Relief, and Economic Security Act (CARES Act) a $2 trillion stimulus package to provide relief to American consumers and businesses struggling as a result of the coronavirus pandemic.
Many of you are curious about the Paycheck Protection Program (PPP) Overview. PPP is a part of the stimulus package included in the CARES Act. The Program provides nearly $349 billion for small business cash-flow assistance through federally guaranteed loans. Loans can cover payroll support, employee salaries, rent, utilities and other debt obligations to help America's small businesses recover from the economic impacts of COVID-19. Loans are available for up to 250% of an employer's average monthly payroll, with a maximum loan of $10 million dollars. We are waiting for guidance (the fine tuning of PPP is NOT complete) from the SBA.
Currently, eligible business can apply for an Economic Injury Disaster Loan (EDIL) directly through the SBA. We encourage you to visit www.SBA.gov and begin the application process. You will need tax returns for the borrowing entity, Profit and Loss Statements, and Organizational Documents to complete the application.
Once your application is completed, it is our understanding that you will be assigned a registration number for Resource Bank (or our SBA partners). Once all programs are finalized for approval, a direct deposit will be made into your Resource Bank checking account.
We appreciate your business and hope that you stay safe at this time. We are working hard to remain steadfast in our service to you. Thank you for your patience during this time.
The U.S. Chamber of Commerce has provided a fact sheet to help you prepare. See updates on how Resource Bank is responding to COVID-19 here.
---
New Orleans Branch Closes Temporarily
Covington, March 21, 2020: Resource Bank has made the difficult decision to temporarily close our New Orleans CBD branch. The deposit-accepting ATM is operational 24/7. This location does not have drive-thru services, making it hard to adhere to social distancing. Account officers are working remotely and are available by phone or email. We ask clients to use services at our Metairie location. There is no indication that any Resource Bank employee is symptomatic, this is purely a precautionary measure. The health and safety of you and our employees is a top priority. We are fully prepared to serve, see COVID-19 updates here.
---
Scheduled Online and Mobile Banking Maintenance for March 21, 2020
Covington, March 16, 2020: Resource Bank is performing a full system save this Saturday, March 21. While online, mobile, and voice banking will be accessible, the information will not be real-time. Clients will see transaction history until 9pm CST on Saturday, March 21 and data will not be updated until maintenance is complete at approximately 7am Sunday, March 22. Times chosen are to minimize inconvenience. There will be no interruption to debit card services. This is part of our commitment to ensure all systems are working at optimal performance.
---
Resource Bank Implements Precautionary Measures Amidst COVID-19
Covington, March 13, 2020: Resource Bank considers the safety and wellness of our clients, employees and communities a top priority. The bank is monitoring the developing situation of the novel coronavirus, commonly known as COVID-19. We have protocols in place to respond to pandemic events and have already implemented precautionary measures to aide in keeping our community safe.
Our facilities are well stocked with hand and surface disinfecting supplies. We are increasing the frequency of cleaning high traffic and high touch areas. Resource Bank encourages employees and clients to follow CDC and health department recommendations and have advised them to stay home if sick. All non-essential meetings, functions and bank events have been postponed until further notice. It is our goal to minimize the risk of exposure for our staff and clients.
Resource Bank is prepared to fully remain operational at this time. We recommend clients take advantage of our digital capabilities such as online and mobile banking, digital bill pay, mobile check deposit, and online account opening. The bank has recently implemented new systems that allow for increased use of digital signature acceptance. Additionally, now is a good time to ensure all of your contact information is up-to-date with Resource Bank. We encourage clients to reach out and discuss options for conducting business with their account officer.
Resource Bank will continue to monitor the situation as we navigate through this unprecedented event. We are in close contact with our vendors and community officials and are ready to implement additional measures as needed. We are prepared for many employees to work remotely. We regularly test our remote-working business continuity plan to ensure all of our digital services remain fully operational. However, we currently do not believe there is a health risk at any of our facilities The bank will communicate any operational changes via www.resource.bank and the official Facebook page.
---
Resource Bank Franklinton Branch Moving to New Location
Covington, February 28, 2020: Construction is full steam ahead at 988 Washington Street in Franklinton. In August of 2019, Resource Bank announced plans to move its Franklinton Branch to the new site at the corner of Washington and Main Street.
The 2150 square foot building is on target for a fall 2020 completion. RHH Architects is the architectural firm and Voelkel McWilliams Construction is the construction company for the project.
Resource Bank has operated out of its current location, 950 10th Avenue, since September 4, 1998. After twenty-two years of providing banking and lending services in Franklinton, this build shows a continued commitment to the community. The main street location will provide convenient access for clients just around the corner from where they have been banking. The new branch will have dual drive thru lanes, a private conference room, and a 24 hour ATM.
"We are excited to be moving into a new building. This is a great opportunity to be at a very visible location in town", says Cindy Allen, Branch Manager. Resource Bank plans to host a ribbon cutting that will be open to the public. An announcement regarding a date for that event will be released post completion of the build.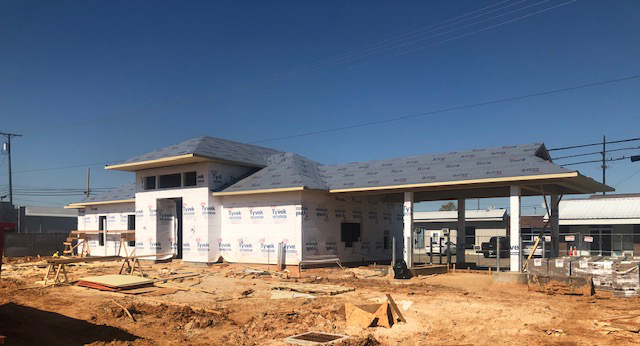 ---
Resource Bank Hosts Art Show Featuring Greg Creason
Covington, February 5, 2020: On Wednesday, February 5th, Resource Bank hosted an Art Show featuring Greg Creason at its New Orleans Branch, located on the corner of Magazine and Poydras. The Bank rotates local artist's displays at this location to fill its gallery walls with their artwork. During that time, Resource hosts an Art Show for family, friends, co-workers and clients to appreciate the art.
Greg Creason moved to New Orleans in 2009 where he has found tremendous inspiration in the lifestyle and art community of New Orleans. Creason's paintings transcend traditional artwork by his use of blown glass scraps and vintage glass pieces. The paintings come "alive" in dimension elegance. Greg holds a Bachelors of Fine Arts Degree in Illustration from Kendall College of Art & Design in Grand Rapids, MI. He currently owns Creason's Fine Art Flagship Gallery at 829 Chartres Street and Creason's Fine Art Gallery II at 831 Chartres, both in the French Quarter.
Creason's artwork will be hanging at Resource Bank's New Orleans branch at 412 Magazine St. until May 15th.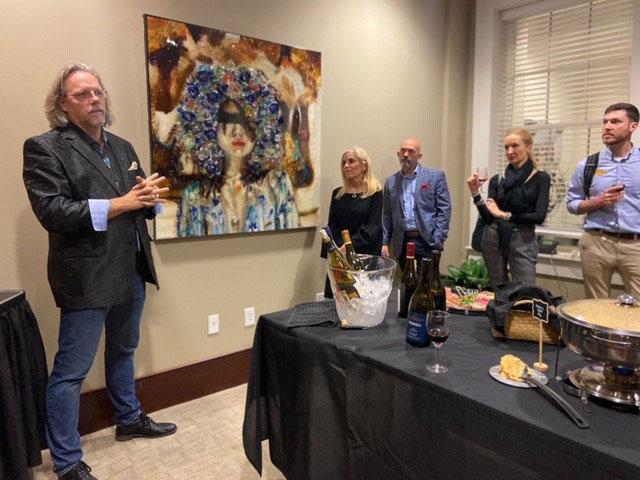 ---
Resource Bank Names Baton Rouge Advisory Board
Covington, January 30, 2020: Resource Bank's Baton Rouge Advisory Board had its inaugural meeting on Thursday, January 30th. Newly appointed Advisory Board members are Lori Boeneke of Wampold Companies; Randy Cangelosi of Kean Miller LLP; Craig Greene of Craig Castleman Greene, MD, MBA; Mike Lloyd of GVSI, LLC; Daniel Robinson of RRDM Wealth Management Partners; Carlos Spaht of Alexander Sides, Attorneys at Law; Nick Speyrer of Emergent Method; Michael Uffman of Marucci Sports; Todd Waguespack of Level Homes; and current Resource Bank Board Member, Trula Remson of RHH Architects.
"I look forward to working with the group and am confident their support and ties to the Baton Rouge community will have a positive impact on Resource Bank." – Bobby Fahey
Resource Bank has been in the Baton Rouge community for 4 years and operates under Baton Rouge Market Leader Bobby Fahey. The group will meet frequently at the Baton Rouge Branch located at 9513 Jefferson Highway.
---
Clair Leger Named Chief Financial Officer
Covington, January 15, 2020: Resource Bank names Clair Leger Executive Vice President and Chief Financial Officer. Leger, who joined Resource in 2015 has served as Controller, Lead Financial Officer and Senior Vice President.
Leger is a native to Mississippi, where she earned her degree in Accounting. As an undergraduate, she began working in the Banking Industry. Upon graduation, Leger worked for Deloitte and Touche auditing banking clients. She is nearing her eighteenth year in the banking industry.
Leger was recently honored with the 2019 Kiwanis New Member Award for her volunteer efforts. She also volunteers at LynHaven Women's Shelter by bringing warm meals, visiting and hosting activities, and arranging donation drives to collect cold and flu medicine for the residents. In addition, Leger volunteers at the Ronald McDonald House by making meals for the families staying there.
In her free time, Leger enjoys cooking and gardening. She also spends time working on her rental properties and traveling to national parks: the Grand Canyon, Yosemite, Yellowstone, Arches, Zion, and Bryce Canyon to name a few.
Clair says, "I love working at Resource Bank because we are a community bank that values getting to know our customer's business and dreams."
---
Krewe of MCCA Toast to the King and Queen
Bogalusa, January 23, 2020: On Thursday, February 23rd, Resource Bank toasted to King Terry and Queen Amber of the Krewe of MCCA parade. The parade will run through Bogalusa on February 22nd in Bogalusa from 1:00pm - 3:00pm.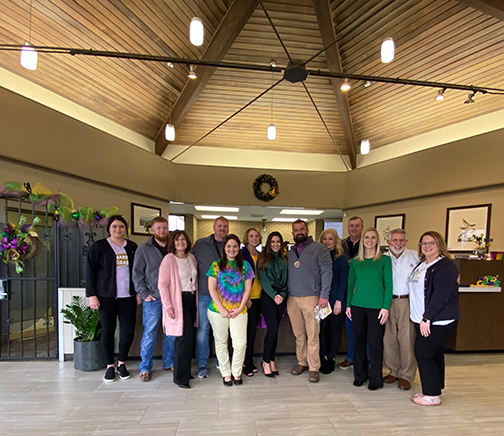 Local Banking. Better Banking.
985.801.1888
Baton Rouge | Bogalusa | Covington | Franklinton | Mandeville | Metairie | New Orleans | Slidell
Holiday Closures
View RB holiday closures.
Learn More