Resource Bank Announces Scholarship Commitment to Dillard University
Covington, May 9, 2022: Resource Bank announces the launch of The Resource Bank Scholarship Fund. The new scholarship program is part of a beginning partnership with New Orleans based Dillard University.
The scholarship is open to current undergraduates actively pursuing a degree in business at Dillard University. Resource Bank will award $1,000 in scholarship funds to two (2) qualifying students each semester, beginning with the Fall 2022 semester. The bank has committed to a total of $16,000 in scholarship funds.
Resource Bank believes that easing the cost of higher education has enormous potential to initiate change, and will play an important role in shaping our community's future. By engaging with local companies, students can build a network of mentors and business contacts. Through the Resource Bank Scholarship Fund, Resource hopes to encourage students to pursue careers within the financial industry and retain local talent.
"Resource Bank is committed to investing in future generations, and we believe that every act of sponsorship — even a small one — helps positively impact individuals who grow into contributing members of our communities," said Chris Keller, Chairman of the Board and CEO. "We hope that our new scholarship will not only encourage students to complete their degree goals, but also inspire them to take pride in financial education and to encourage others to do so as well."
To apply, students must reside in Orleans Parish, be majoring in Business at Dillard University, have a GPA of 3.0 or higher, be willing to meet with representatives of Resource Bank to attend a networking event, and write an essay or create a video description of his/her future career plans. Dillard University is responsible for the yearly promotion and recipient selection.
Please visit www.dillard.edu for full application terms and timelines.
---
Resource Bank Presents Financial Education Workshop to Summer Camp
Covington, June 27, 2022: Representatives Taylor Keller and Amanda Caluda from Resource Bank visited Thomas Elementary in Franklinton to present an interactive financial education workshop for summer campers. The one-hour seminar consisted of lessons on ways to save and protect their money, along with the information to access it.
Third and fourth-grade campers played the role of secret agents by identifying savings mistakes made by characters in a story and were rewarded quarters for participating. At the end of the story, campers could choose to save their money or spend it on items in the "RB Gift Shop." "The children were very engaged with the lesson. They had such a good time," stated Cheri Thomas, camp director. This marks the fourth year the bank has visited Thomas Elementary campers. The workshop always has a mutually beneficial outcome, as bank employees truly enjoy fostering knowledge in our youth.
There is a need to address disparities in financial knowledge through financial literacy education. The bank strives to do its part to provide resources, programs, and counseling to consumers to close this gap. Resource Bank can offer financial literacy programs designed to provide both in-person and online resources to help children, youth, and adults increase their understanding of financial management. If your organization is interested in a Financial Literacy workshop, contact Marketing@resource.bank to schedule a presentation specifically designed for your group.
---
RB Mobile App Update 7.14 - May 17th
Updated May 18, 2022: Users are advised to uninstall and reinstall the RB Mobile app and re-enable biometrics log in.
May 9, 2022: On May 17, 2022, we will incorporate updates for Mobile Digital Banking. This RB Mobile App update includes enhancements and general fixes in both the Android and iOS biometrics packages in the 7.14 release. This update will require any end-user who currently has biometrics set to re-enable biometrics after signing into the app using their current Access ID and Passcode.
If you have trouble with your Access ID and Passcode, you can use the Forgot Passcode feature on the Mobile Login Screen.
After successful Login, navigate to the "More" menu. Click "Profile & Security." Toggle to enable Face ID or Touch ID.
Thank you for banking with Resource Bank. Please contact us with any questions regarding this notice at 985-801-0150.
---
Cindy Allen retires from Resource Bank. New Branch Managers names for RB Franklinton and Bogalusa Branches.
January 19, 2022: Resource Bank announced today that Cindy Allen, Washington Parish Branch Manager, and Senior Vice President, retired at the end of 2021. The Executive Management Team is pleased to promote from within the Resource Bank family and has appointed Angela Callender and Bridget B. Owens to succeed as Branch Managers. Callender, former Assistant Branch Manager, will step into the Franklinton Branch Manager role. Owens, a former Assistant Branch Manager, will move into the Bogalusa Branch Manager role. Both have been promoted to Vice President officer positions.
"On behalf of the Board of Directors, the management team, and Resource Bank employees, we want to thank Cindy for her leadership in the Washington Parish area over the past two decades," said Lynn Kennedy, Chief Operations Officer. "The Resource Family is sincerely grateful to Cindy for her dedication to Resource Bank and wishes her nothing but the best in this new story of life."
Resource Bank's selection of the new managers results from an internal leadership and development planning process that implements one of the priorities in the company's vision statement, to be the employer of choice. "We are thrilled that both Angela and Bridget can jump into the Branch Manager roles. Each of them has developed client relationships over the years and has had a significant impact on building their branches to what they are today. It was an easy decision on our part," added Kennedy.
Callender joined Resource Bank in 1998 as a founding employee, and her tenure is a testament to the knowledge and experience she has to offer. Owens has been with Resource Bank since 2004 and has developed strong client and community relationships that will continue to cultivate branch accomplishments. The hard work and dedication displayed by both give the bank great confidence that clients will continue to experience the high-quality personal service they are accustomed to over the years.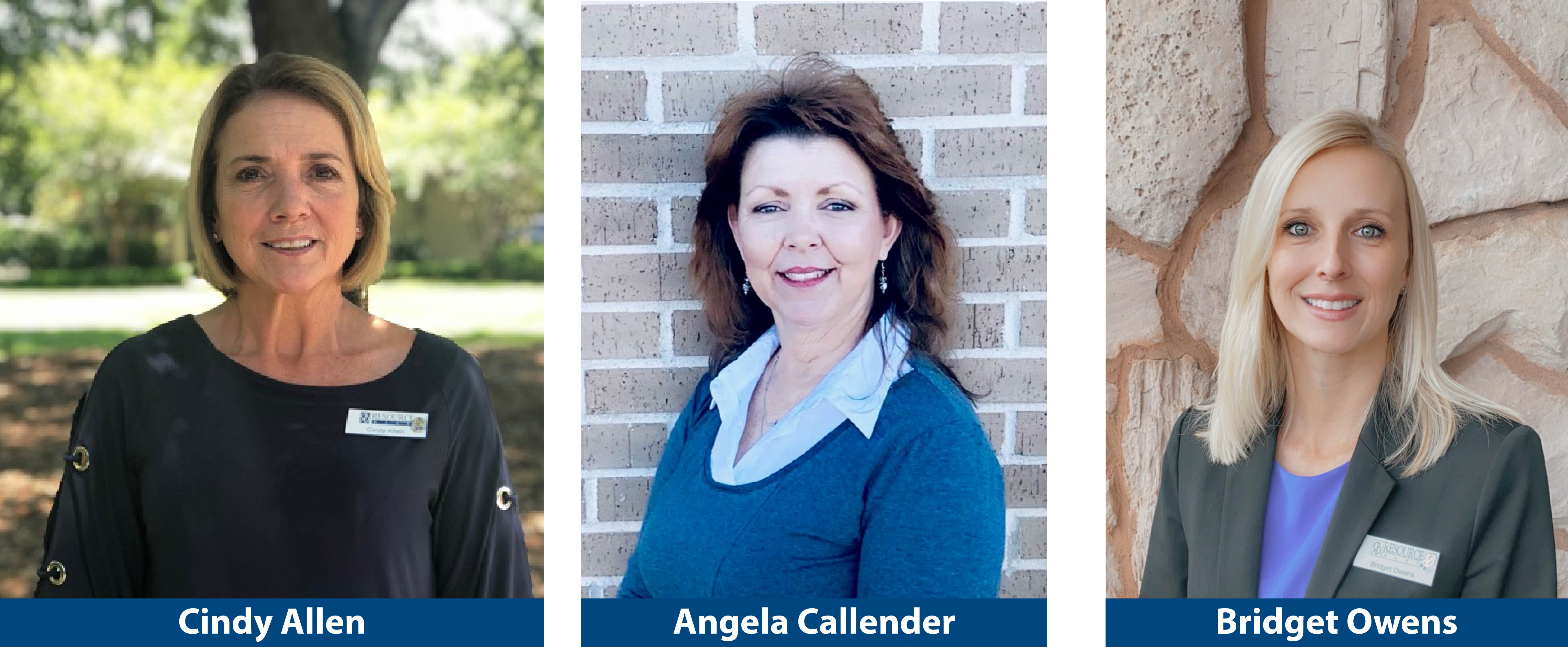 Online Banking: October 24th Update
October 7, 2021: Resource Bank is pleased to soon release a refreshed look to Online Banking. This will be implemented overnight Sunday, October 24th, during our regular maintenance window. Key points of the refresh include:
Improved navigation and toolbar icons.
Ability to customize right column widget displays.
Commercial users will now be able to create Account Groups to view a subset of accounts quickly.
Upon initial log in, you may be asked to agree to updated user terms and disclosures.
Login credentials will not be affected.
No other banking portals will be affected.

You can find details of the new look, including screen images, here.

---

Changes to U.S. First-Class Mail delivery times may impact you.

October 1, 2021: Effective October 1, 2021, the United States Postal Service (USPS) has revised its service standards for certain First-Class Mail items, resulting in a delivery window of up to five days. Please note that this may delay your receipt of mail from us and our receipt of mail from you (including mailed statements, documents, cards, and payments). Read more about the change: here.

Now is a great time to sign up for our digital features like eStatements.

---

View the RB e-Updates Digital Newsletter: September 2021 Edition

September, 2021; 3:15 pm CST: We like to keep our clients updated with the latest and greatest Resource has to offer. Read the September 2021 edition of our bi-monthly newsletter here.

---

Digital Banking Enhancements Announced; Client Action Required

Update 6/16/2021: RB Mobile App update is now available.

RB App for iPhone RB App for Andriod

Users must have the latest software update on their device before updating or downloading the app.

---

Update 5/20/2021: Launch date moved from May 25th to June 8th. Notice below is reflective of this change.

---

May 4, 2021; 12:30 pm CST: We are excited to announce an upgrade coming to your RB Mobile App, SMS Text Banking, and Voice-24 Telephone Banking.

RB Mobile App Update: This upgrade provides you with the same features you love today but in a modern, updated design. Some of the new features will include:

Improved user experience & interface.
Ability to reveal a typed passcode on the login screen.
Multifactor Authentication options that mimic Online Banking options.
Fixed recurring transfers for mobile.
New Dynamic/Editable Fields for Transaction and Account Details.
Biometrics for Android (Face ID).
Removal of Preview.
Custom greeting with your name at login.

We are working hard to implement features that are user-friendly and secure. Our RB Mobile upgrade is launching on June 8, 2021. Please note, your Access ID and Passcode will remain the same when installing the mobile application upgrade; however, action may be required to enjoy the new mobile experience.

iPhone Users: If enabled, your phone's auto-update setting should update the application without your interaction; however, there may be conditions with your device that may prevent the update from happening. These conditions include device Wi-Fi, data network settings, or other circumstances that may require a manual update of the existing application. If you are having issues once the new RB Mobile launches, please update your RB Mobile app by following the instructions below:

Open the Apple App Store on your mobile device.
Select your Profile Picture (Person Icon) at the top right corner.
Scroll down to the Upcoming Automatic Updates section.
From here, you can scroll to the RB Mobile App and update it individually.

Android Users: We are implementing a new App URL in Google Play. You will be required to remove the old application and download the latest version from the Google Play Store once available. Users that have auto-update enabled may not have to update their application, but this isn't always guaranteed. If you are having issues once the new RB Mobile launches, please update your RB Mobile app by following the instructions below:

Download the RB Mobile App here, or
Open the Google Play Store app on your mobile device.
Tap Menu Manage apps & devices.
Apps with an update available are labeled "Update available." You can also search for a specific app.
Tap Update.

If you are presented with the "Our Mobile Banking Solution has changed. Please check our website for more information" Error Message, this is a good indicator that your RB Mobile App didn't automatically update. You should follow the steps above to update RB Mobile manually.

Please Note:
Some apps require new permissions when they are updated. You may see a notification directing you to accept the new user terms.
In some cases, you may need to restart your device to update an app.
SMS Text Banking Users: The current short code for text banking is 96865. Beginning June 8, 2021, at 11:00 am CST, we will update to a new two-way long code, 484-218-5851. Please update your RB Text Banking contact on your mobile device. If you utilize text banking, you will be required to re-enroll your device due to regulatory requirements. You can find enrollment instructions within Online Banking settings under Mobile Management.
---
View the RB e-Updates Digital Newsletter: April 2021 Edition
April 27, 2021; 12:00 pm CST: We like to keep our clients updated with the latest and greatest Resource has to offer. Read the April 2021 edition of our bi-monthly newsletter here.
---
Resource Bank Releases Newly Designed Website
February 17, 2021; 8:00 am CST: Resource Bank is pleased to release a refreshed website designed for improved navigation and functionality. Client feedback was considered when creating the new informational site, and a mobile-first approach was prioritized in the design.
The overall branding has a familiar Resource Bank style with slight changes to accommodate a slimmed-down logo and coloring to feature several iconic blue shades. Clients will notice a similar homepage layout and favorited conveniences such as access to the Online Banking portal at the top of every webpage. The site will still highlight images of local photography and culture, with monthly features throughout the year. Upgrades to www.resource.bank include a Mega Menu feature that displays all pages related to topics, a site search function, video demos and tutorials, and product-based FAQs. Resource Bank has seen a shift to mobile use, and we have made the site responsive so similar experiences can be enjoyed across all devices.
This is just one of many recent enhancements to your digital experience. We recently enhanced our digital signature acceptance, upgraded our mobile deposit camera feature, and more Online Banking and Mobile App features are on the roadmap. Our team is working hard to offer timely and relevant services. When you see something you like or something you need, let us know. We are always looking for ways to better your banking experience.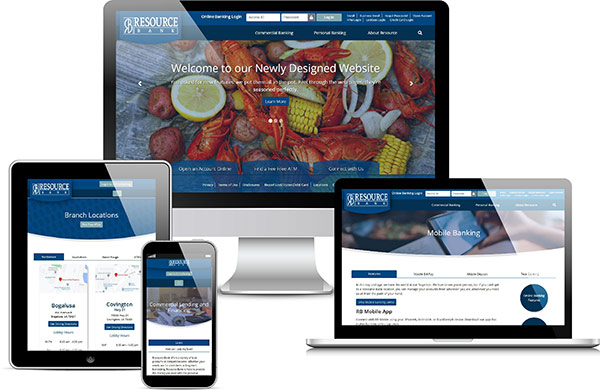 ---
View the RB e-Updates Digital Newsletter: February 2021 Edition
February 11, 2021; 11:15 am CST: We like to keep our clients updated with the latest and greatest Resource has to offer. Read the February 2021 edition of our bi-monthly newsletter here.
Local Banking. Better Banking.
985.801.1888
Baton Rouge | Bogalusa | Covington | Franklinton | Mandeville | Metairie | New Orleans | Slidell
Holiday Closures
View RB holiday closures.
Learn More